Smart robots with the power of sight: More capabilities and flexibility for a wide range of applications 
Robots perform tasks that are impossible or difficult for humans to accomplish. Computer vision gives robots "eyesight", opening up greater flexibility and almost unlimited application possibilities. We offer a customized vision solution at the best price/performance ratio to help you accomplish your application goals.
Fast integration through compatibility

Compatible with KUKA, FANUC, Universal Robots, Schmalz, and many other well-known brands in robotics

ROS and GenICam conformity

Basler 2D and 3D cameras are ROS 1, ROS 2, and GenICam compliant for standardized, easy integration 

Plug & play: USB 3.0 & GigE/5GigE

Standard interfaces with high data throughput, supported by industrial PCs and embedded systems

Broad portfolio

In addition to compatible hardware, we offer a perfectly matched software portfolio for image acquisition and processing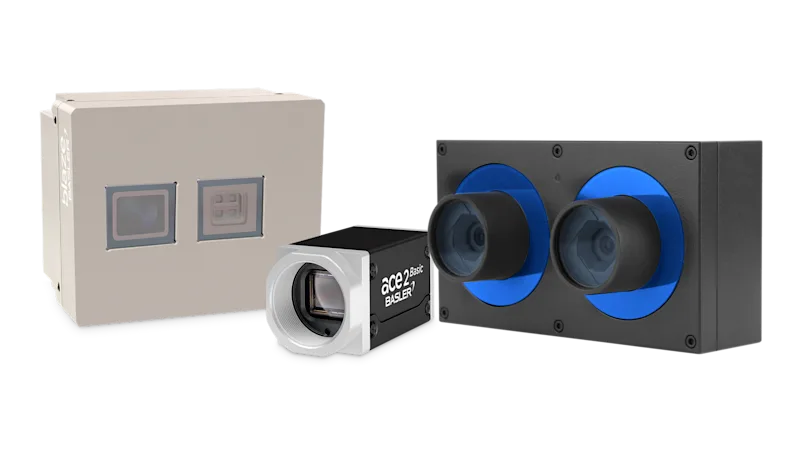 Coordinated products from a single source
We offer software and hardware components for your smart computer vision system—all optimized for compatibility:  
2D cameras with resolutions from VGA to 24 MP  

Time-of-Flight and Stereo Cameras for cost-effective and smart 3D imaging  

Wide range of lighting easily integrated via Basler's pylon SDK  

PC cards and frame grabbers matched to your vision technology  

Carefully selected accessories, such as: lenses, drag chain compatible cables, and IP67 protective housings  

Convenient online tools to help you easily configure your system: Lens Selector and Vision System Configurator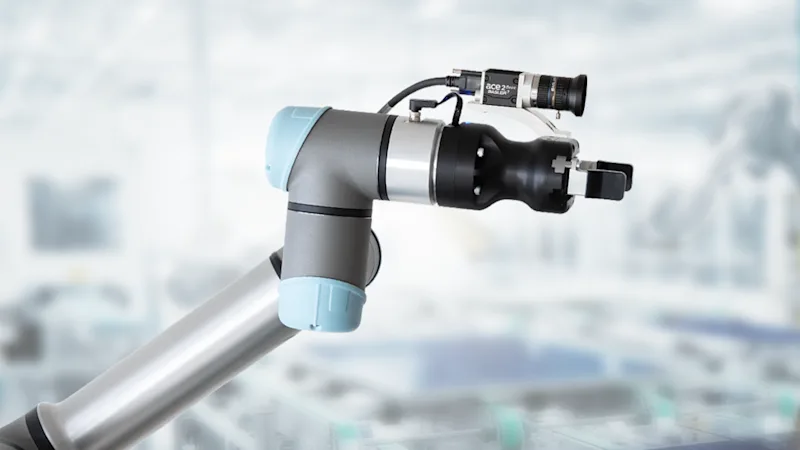 Fast integration through system compatibility  
Basler products have a proven track record of compatibility with robotics solutions from many major brands: KUKA, FANUC, Universal Robot, Denso, and Techman, as well as gripping systems from SCHMALZ. These and many other robotics brands work smoothly with Basler Vision. 
Basler 2D and 3D cameras are ROS 1 and 2 compatible 

Basler vision components are integrated into many operating systems, including FANUC's 

Software connectors are available for KUKA, Universal Robot, and Franka Emika 
Contact us for more details on compatibility.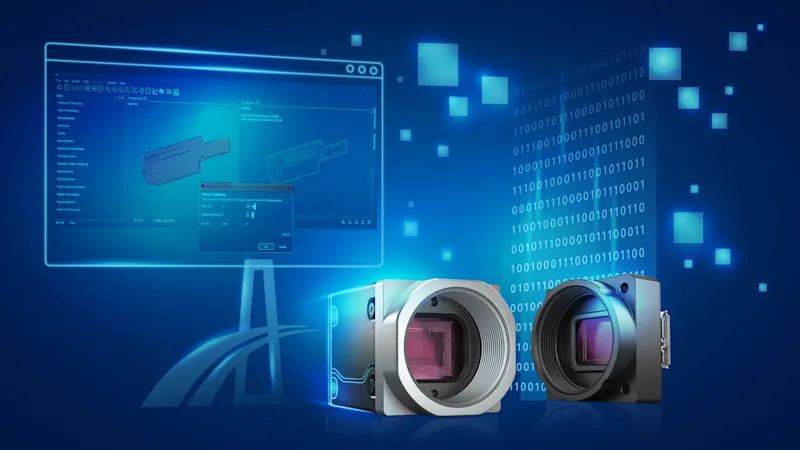 Seamlessly integrated image processing
Basler's pylon Software Suite can do much more than just system configuration and image acquisition. It enables high-performance image processing functions thanks to the integrated pylon vTools.  
pylon SDK software acts as a programming interface for all camera models. It is beginner-friendly, designed for high productivity, and ensures stable applications 

pylon Viewer for camera evaluation includes powerful tools  

pylon drivers & GenTL: stable and certified drivers for Windows, Linux, macOS, and Android.  

pylon vTools provide image processing, including: object positioning, measurement, and code recognition  
To the pylon vTools
Typical applications for image-guided robotics
Gaining a sense of sight through computer vision makes robots more flexible and significantly helps expand their capabilities. More and more applications are benefiting from the potential use of image-guided robotics.
Application examples in robotics
There are several options that can be used to save time and money for a wide variety of applications. Our customized solutions can help.
Most popular products
For efficient and reliable machine vision applications in this industry, the following Basler products are often the best choice: