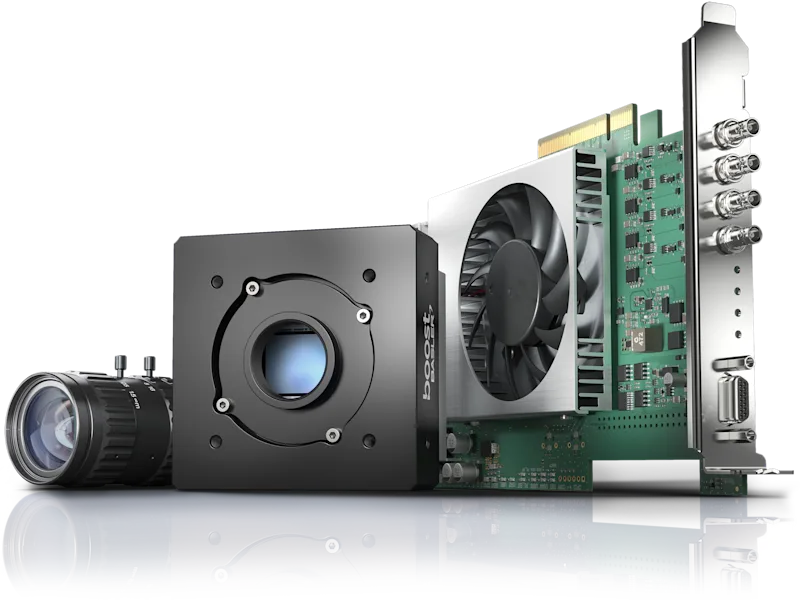 High bandwidths and resolutions
Get all your CoaXPress 2.0 components from a single source at moderate system and implementation costs. Our precisely matched components are ideal for real-time, low-latency applications with very high bandwidths.
High bandwidths

12.5 Gbps per channel at maximum cable lengths and best image quality

More power for multi-camera setups

Scalable: up to four channels on cameras and interface cards

Single cable solutions with PoCXP

Triggering in combination with Power over CoaXPress (PoCXP) via a single cable

Real-time applications

Suitable for very low latency applications

An SDK for cameras and interface cards

Easy system setup and fast commissioning with pylon Software

Perfect upgrade from older vision systems

Reduced costs compared to previous Camera Link or CXP 1.1.1 systems

Image preprocessing

Preprocessing on CXP-12 interface cards reduces load on host CPU

Extensive firmware feature set

Delivers an excellent image quality of CXP-12 cameras
All our CXP-12 products work with the CoaXPress 2.0 vision standard for maximum CoaXPress bandwidth.
One of the largest CoaXPress 2.0 portfolios on the market
Whether you need large resolutions or high speeds, find the right CXP-12 system in our portfolio.
Configure your CoaXPress application
Configure a system based on your individual high-performance application with our extensive CoaXPress 2.0 portfolio using the Vision System Configurator.
Our CoaXPress products in use
Learn more about our products and applications. Our comprehensive materials provide you with all the important details.