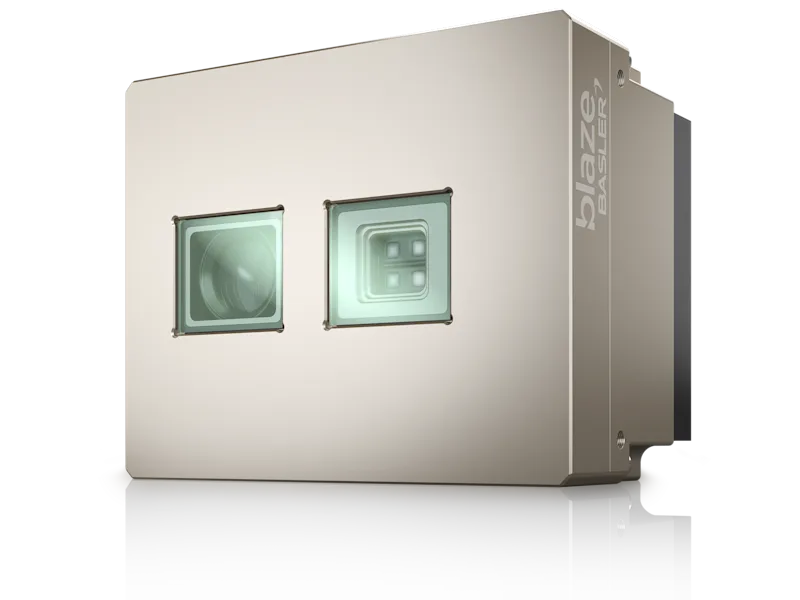 3D imaging for industrial applications
Basler´s time-of-flight camera provides precise 3D images in real time thanks to Sony's DepthSense™ sensor technology and integrated depth image processing. The camera operates according to the time-of-flight principle at 850 nm or 940 nm wavelengths.
850 nm and 940 nm

Outstanding depth data thanks to the right wavelengths for indoor and outdoor use

IP67 camera

Robust housing is dirt- and water-proof, with a M12 connector for demanding industrial applications

3D images in real time

Minimal latency and precise hardware triggering provide fast 3D image capture

Dual Exposure HDR

Robust 3D imaging for scenes with large differences in brightness
Highlights of the Basler Time-of-Flight Camera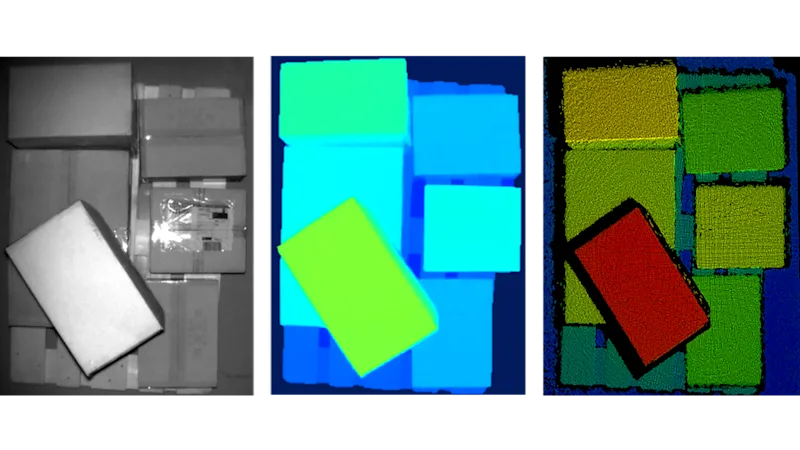 Precise 3D imaging
The Basler ToF Camera features Sony's powerful IMX556 depth-sense sensor, enabling precise optical measurements of objects at up to 30 frames per second. This sensor has a backside-illuminated architecture that uses CAPD ToF pixel technology to achieve higher 3D depth data accuracy than conventional ToF cameras. The camera generates 2D and 3D data in one shot with a multipart image that includes distance, intensity and confidence maps. The integrated VCSEL diodes and time-of-flight-optimized lens support precise optical measurement using the time-of-flight method.
Real-time streaming
With up to 30 frames per second, the Basler ToF Camera is ideal for applications where the imaging system's speed is crucial. Packages on a conveyor belt can be detected on-the-fly and their volume measured to determine freight costs. In robotic gripping tasks, the system detects the position, size, and gripping position of objects in real time, since the image acquisitions are precisely synchronized by the hardware trigger function. The processing of depth data is completed in the camera to reduce the computational and data load on the CPU, which is important for AGV applications, for example.
Dual Exposure HDR feature
The High Dynamic Range (HDR) function was developed for high-contrast, complex scenes that contain both strongly and weakly reflective objects or surfaces. In Dual Exposure mode, two shots with different exposure times are combined to simultaneously image very bright and very dark objects. The result is a precise 3D point cloud that correctly represents all object details regardless of distance and reflectance.
Daylight robustness
The ToF Camera is available in two wavelength variants: 850 nm and 940 nm. The 940 nm variant provides excellent daylight functionality. Only the camera's own light is needed for distance measurement, so the Basler ToF Camera is equipped with an optical bandpass filter precisely matched to the wavelength of the ambient light source. Since sunlight at 940 nm is largely absorbed by the atmosphere, it hardly disturbs the camera's operation. This makes a 940 nm 3D ToF Camera ideal for applications in natural light. It is particularly advantageous for outdoor applications (such as container handling or depalletizing) and wherever artificial light mixes with sunlight.
Large measuring range
The ToF camera features a large field of view (67° x 51°) and a flexible working distance (0.3 m to a maximum of 10 m) to capture depth data for large objects and even entire scenes at once. This allows it to provide optimal support for pick-and-place applications, volume measurements, and palletizing tasks in logistics and production environments.
Multi-camera operation
The Basler ToF Camera provides camera functions for interference-free, synchronous operation of multiple cameras in the same application, regardless of their network location. Multi-camera systems may be required to capture large objects, full scenes, or moving objects, such as AGVs in a warehouse.
Compact & robust
The Basler ToF Camera stands up to harsh environments. Its 100 mm x 81 mm x 64 mm industrial-grade housing is corrosion-resistant, shock- and vibration-proof, and water- and dust-proof according to the IP67 standard. These features also make the ToF Camera ideal for mounting on stationary and mobile robots or vehicles.
pylon for Basler ToF Camera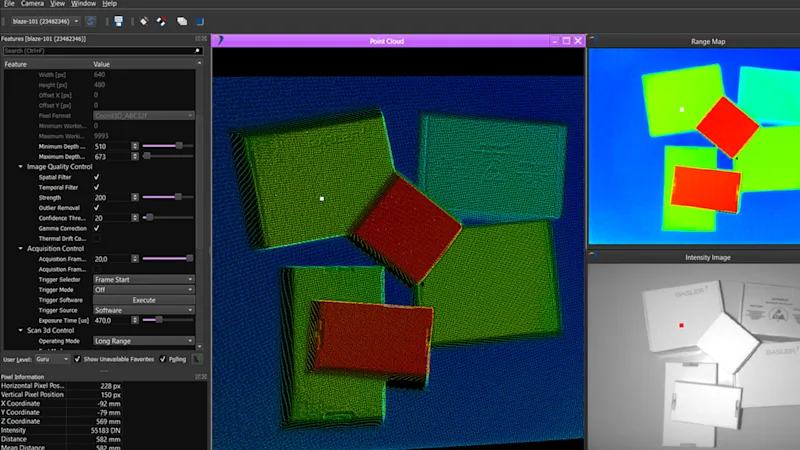 Easy commissioning and integration of the Basler ToF Camera is ensured by the proven pylon software with the complementary Supplementary Package. This allows you to develop applications for your Basler 2D and 3D cameras within a single interface. Compatibility with the GenICam, GenTL, and GenAPI standards also enables plug-and-play integration with common libraries, such as ROS (1 and 2) for robotics.
RGB-D solution
If the depth values of the Basler ToF Camera are combined with color values recorded by a separate RGB camera, point clouds can be displayed in the colors that are actually present. This can help to compensate for missing depth information, perform additional classifications based on object color, or facilitate scene understanding.
To the RGB-D solution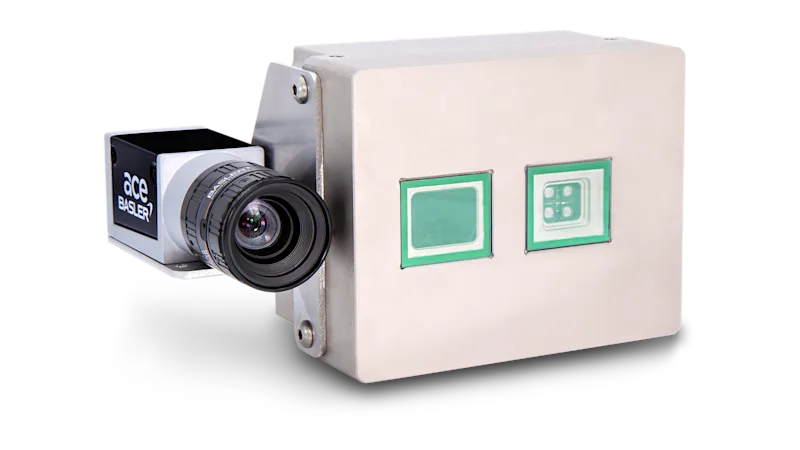 Examples of colored point clouds
More information about the Basler ToF Camera
Learn more about our products and applications. Our comprehensive materials provide you with all the important details.