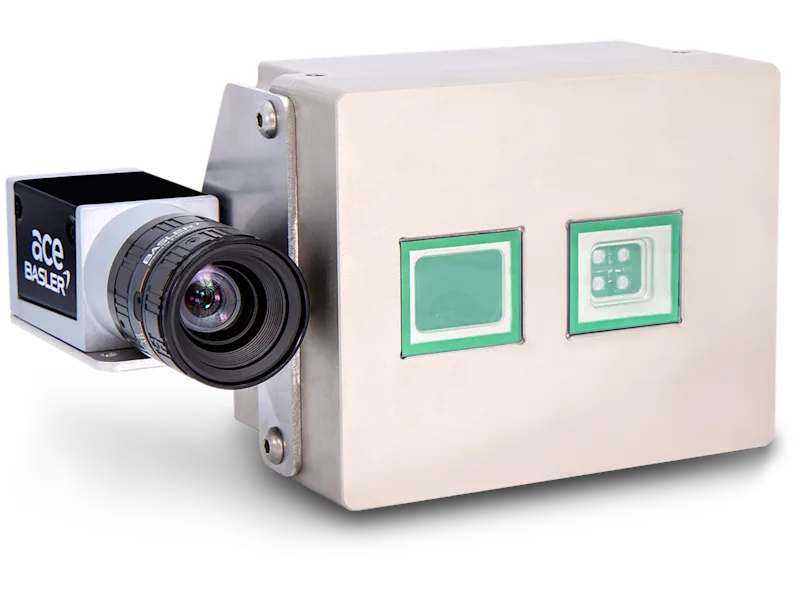 3D depth information in true colors
Combine spatial depth data from the Basler ToF Camera with RGB data from a 2D area scan camera and the result is a 3D point cloud in the colors seen by the human eye. The advantages: better scene understanding and more precise recognition of similar objects.
Color 3D point clouds with the Basler ToF Camera
The operating principle of RGB-D
Our Application Note "Combining Color Data from Basler 2D Cameras with Depth Data from Basler blaze" explains how depth values can be displayed in true RGB colors by combining a 3D camera with a color camera.
Download Application Note
What is RGB-D useful for?
Ready for immediate use with mounting bracket
The Mounting Bracket connects the 3D camera to the 2D color camera. The appropriate mounting bracket allows the Basler ace or ace 2 camera to be quickly and accurately mounted to the Basler ToF Camera to create your RGB-D solution.
Order Mounting Bracket here
| | | | | | | |
| --- | --- | --- | --- | --- | --- | --- |
| Camera | Sensor | Resolution | Shutter technology | Sensor format | Recommended lens | Field of view |
| | Python1300 sensor | 1.3 MP | Global shutter | 1/2" | | 83° x 67° |
| | IMX392 sensor | 2.3 MP | Global shutter | 1/2.3" | | 89° x 57° |
| | IMX392 sensor | 2.3 MP | Global shutter | 1/2.3" | | 89° x 57° |
| | IMX273 sensor | 1.6 MP | Global shutter | 1/2.9" | | 68° x 51° |
| | EV76C570 sensor | 2 MP | Global shutter | 1/1.8" | | 67° x 51° |
| | IMX547 sensor | 5 MP | Global shutter | 1/1.8" | | 63° x 53° |
| | IMX547 sensor | 5 MP | Global shutter | 1/1.8" | | 63° x 53° |