Vision Products and AI Detect Defects in Cement Industry
Customer

TITAN CEMENT

Date

2022
Thanks to Basler ace 2 USB 3.0 color cameras, an ace 2 GigE monochrome camera, and Basler Lenses, Titan Cement now performs the important quality checks on the cement bags in real time during operation. The PerCV.ai AI software from Irida Labs is used for the development of application specific vision AI algorithms.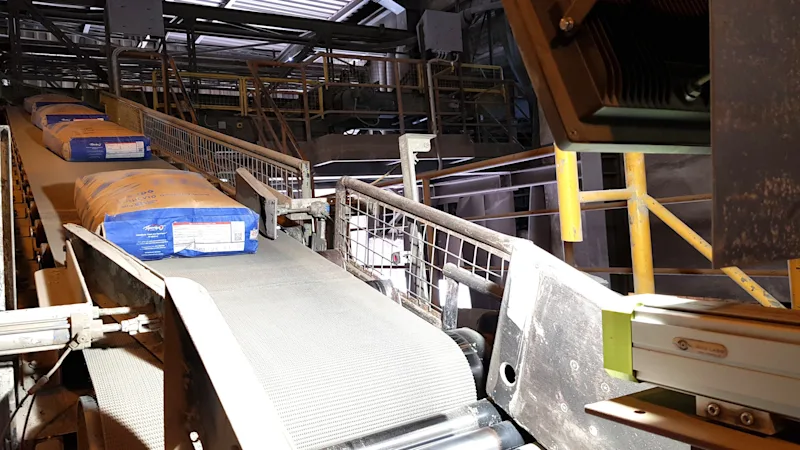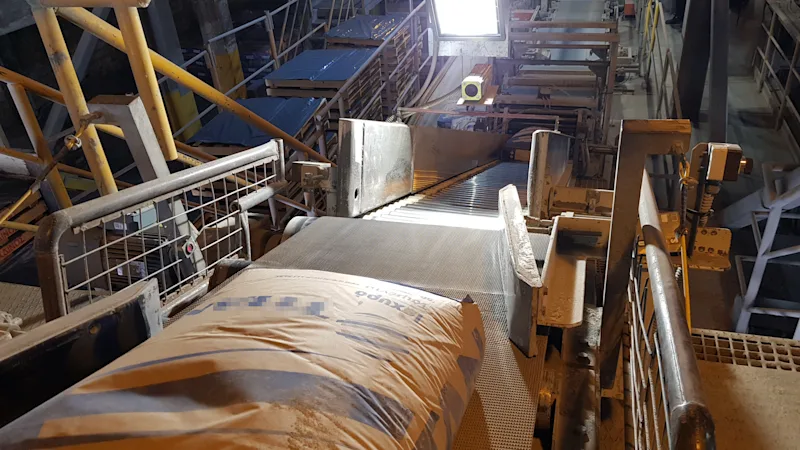 What is this cement industry application all about?
Cement production is an example of a heavy industrial manufacturing process, involving multiple complex stages before the end-product is ready for shipping. In a fast-paced production line, any halt leads to a significant delay, which in turn impacts the system's overall efficiency. On the other hand, an undetected defective cement sack can easily contaminate an entire pallet, not to mention incurring additional excess costs for returns or reimbursement. Moreover, with cement being a chemical product and therefore subject to various legal and environmental requirements such as labeling, companies pay close attention to compliance issues related to their manufacturing and delivery processes.
What are the quality control challenges?
Titan Cement is one of the leading European manufacturers of cement. To meet top quality standards, the company employed human inspectors in three shifts to perform a 24/7 in-line visual inspection on the produced cement sacks. Requirements for the proposed vision system included performance of real-time quality inspection on the cement sacks and identification of any defects on the products' surface, such as cracks, spills, dents, cuts, damaged edges and even printing failures--and all this needed to take place under the roughest conditions: changing lighting conditions, excessive dust, dirt, and vibrations. The vision system should provide always-on defect detection on continuously running conveyor belts, while providing real-time alerts when a defective product is detected.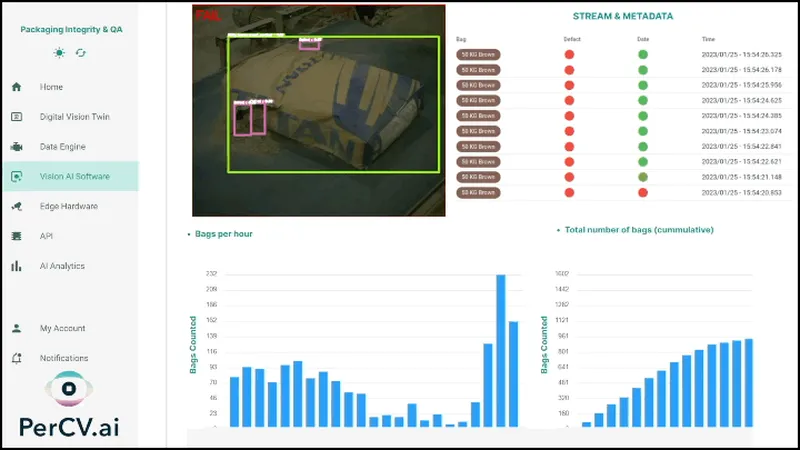 The solution: AI and an edge computer vision system for 24/7 quality control
The vision solution is based on Basler ace 2 USB 3.0 color cameras performing the defect detection on the cement sacks and an ace 2 GigE monochrome camera which is responsible for printing failure checks. They are mounted on rigid brackets over the production line, synchronized with photocell triggering, inspecting five out of six sides of each sack on the appropriate conveyor belt location. Basler Lenses are employed to finetune image capturing to the best possible conditions. Camera and optics are protected from the industrial environmental conditions (vibrations, dust, moisture) with a compact, custom-built IP66/IP67 camera enclosure. Each camera sensor is paired with an on-premise processing device that operates as near as possible to the sensor, making the system an edge AI vision solution. Under the hood, the solution is built on Irida Labs' platform "PerCV.ai", which is used for the development of the solution-specific vision AI algorithms, while orchestrating the end-to-end product deployment.
Advantages of using vision products in the defect detection system
Image processing at the edge – for fast image processing and low latency

Easy and effortless integration of Basler ace cameras with customer software environment

Basler Lenses that match the cameras deliver best image quality.

Tools like the Vision Solution Guide, the Lens Selector and the Vision System Configurator enable easy selection of hardware customized to the needs of the project.

Access to an ecosystem of industry-proven software solutions, such as Irida Labs' "PerCV.ai" platform, providing incremental value and turn-key solutions

Professional guidance supplied by specialized project teams for a successful implementation
Project partner: Irida Labs
Irida Labs, a leading embedded vision AI software company, was entrusted with the vision system and digital twin design, vision AI sensors and edge hardware selection, AI model development and the delivery of a scalable vision AI solution for packaging integrity and quality assurance.
Products for this solution