Pick-and-place Robot in an Industrial Bakery
Challenges in object detection with reflective surfaces
A wide variety of baked goods are produced and packaged in an industrial bakery. The picking process of the packaged baked goods needs to be automated, to use employee resources more efficiently and to reliably plan picking capacities.
The challenges for the vision-guided robotics system are high:
The variety of products is large and the baked goods differ in shape and size, making it difficult to determine the position and orientation of the bags on the conveyor belt.

The transparent plastic packaging is difficult to detect with optical sensors because of the low contrast and reflections.
The solution: 3D computer vision for the pick-and-place robot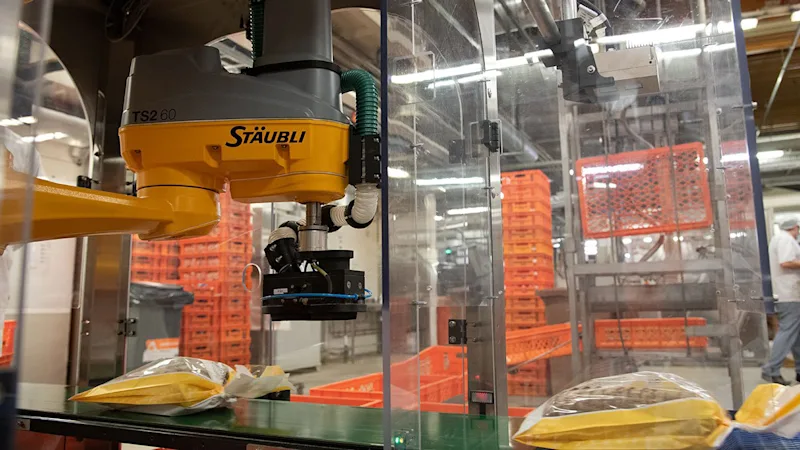 KINE Robotics, a provider of turnkey robotics solutions, together with Basler's distributor OEM Finland, has developed a conveyor tracking system that enables a pick-and-place robot to safely grip bags of bread loaves and rolls of different sizes and shapes on the conveyor belt and to place them in transport boxes.The previously manual picking of baked goods was thus replaced by a high-performance system with 3D vision guided robotics for a faster and less error-prone depositing process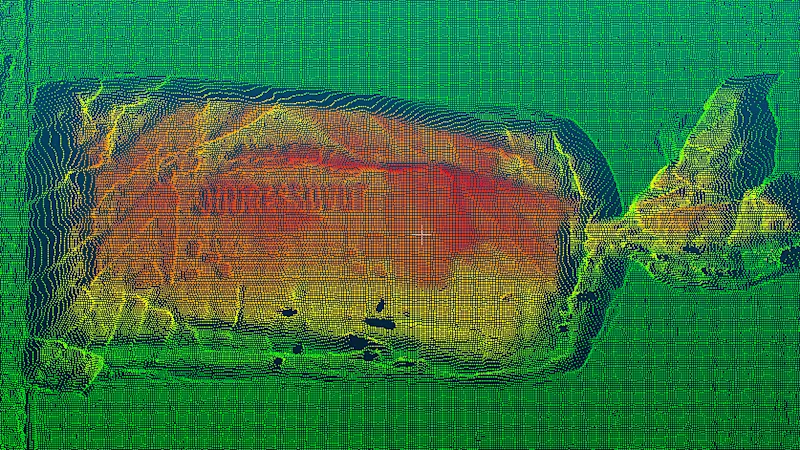 A Basler blaze-101 3D camera installed above the conveyor belt records the packages as a point cloud with over 300,000 XYZ coordinates using the Time-of-Flight (ToF) method. The Matrox Design Assistant X software converts the point cloud into a depth map, which is analyzed using 2D vision tools to determine the grip points for the robot. The robot itself is a four-axis Stäubli TS2-60 SCARA robot.
Instead of traditional contrast based 2D analysis, the packages of baked goods are identified using 3D vision based on their position and orientation on the conveyor belt and recorded as a point cloud. This makes the application much more robust and less sensitive to color variations of the packs.
Your advantages with 3D computer vision for pick-and-place robots
Precise, light- and contrast-independent 3D imaging using the Time-of-Flight method

Suitable for moving objects thanks to a maximum frame rate of 30 fps

Easy hardware installation due to lighting and pre-calibrated optics already integrated in the camera

Non-disturbing due to wavelength spectrum of 940nm in the NIR range that is invisible to humans

Industry-proven and durable camera hardware with IP67 housing

Easy system integration of the camera thanks to communication protocols GigE Vision and GenICam (GenTL)  
The entire conveyor tracking system fits seamlessly into the automated processes of the packaging line. Due to the compact Basler blaze camera with ToF technology and with no need for separate lighting, KINE Robotics could build a lean and fast system with reduced overall system costs. As a result, 25 to 30 packs per minute can now be processed by the robot. Therefore, the industrial bakery benefits from an increased throughput of goods and a cost-efficient production process.
Products for this solution
Looking to implement a comparable solution? These products will help you.