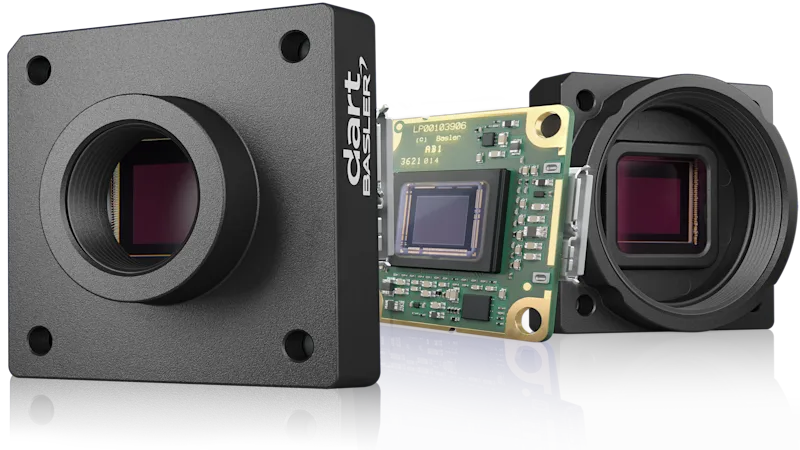 Compact, board level camera with excellent image quality
Looking for a flexible camera for factory or embedded applications? The Basler dart—with its small design, low weight, low power consumption, and various mounting options—is the right choice for you.
Board level design

For optimal flexibility and integrability in system setup

Compact and lightweight

Small, light weight design for demanding installation environments

Variety of mounting options

Bare board, S-mount, and CS-mount

Diverse sensor options

Resolutions from VGA to 13 MP and frame rates from 14 to 523 fps

Interface options

USB 3.0 and BCON for MIPI interface

PGI feature set

In-camera image optimization can be activated in pylon

Great performance, small price

Excellent image quality at a favorable price

Compatibility

Well-suited for common embedded processing platforms
Wide selection of models for various applications
The diverse options for mounting, interfaces, and sensors, combined with the ease of use in embedded vision systems, makes the dart camera series perfect for a wide range of applications. These cameras are the right choice for factory automation, robotics, medical & life sciences, embedded applications, and many more.
dart camera as a bare board variant or with mount
For maximum flexibility in system setup, the dart camera is available as a bare board variant without a lens mount. It then measures only 27 mm x 27 mm with a weight of just 5 g. The board level camera is also available with a housing. It can be purchased with a S-mount or CS-mount and then measures 29 mm x 29 mm with a weight of 15 g.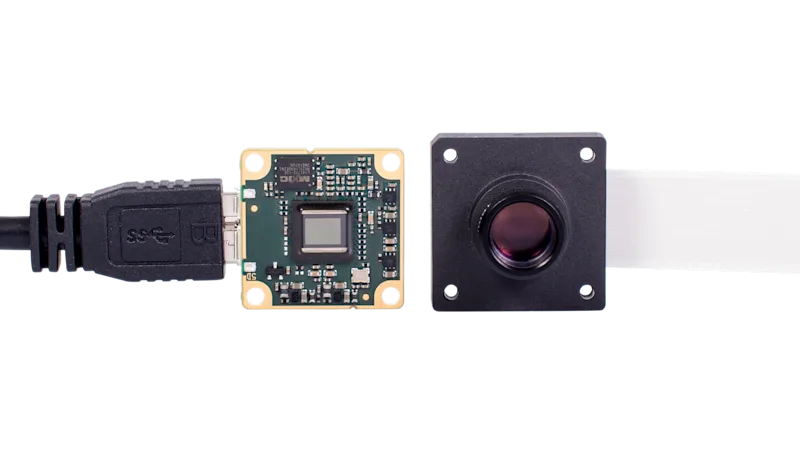 dart camera with USB 3.0 or BCON for MIPI interface
The dart camera stands for flexibility in many respects, including the interface. Depending on your system requirements, choose between a USB 3.0 interface or a BCON for MIPI interface based on MIPI CSI-2.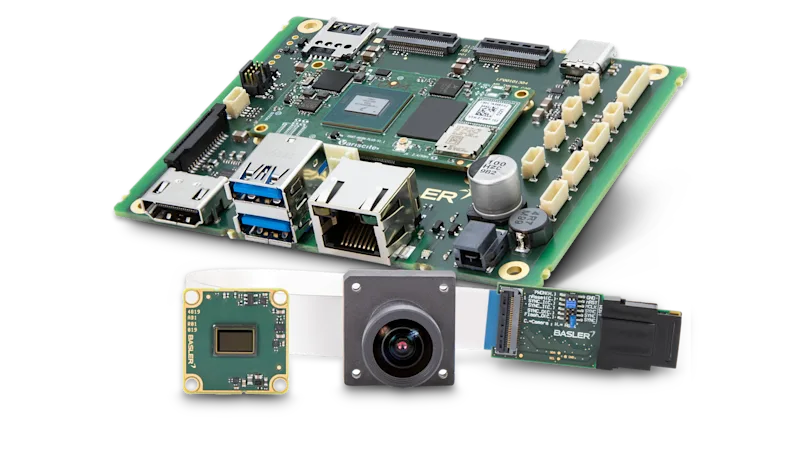 dart camera as an embedded vision system component
Coordinated vision components enable fast prototyping. Looking to test the dart camera in an embedded system? You can use the Basler Embedded Vision Kits to create your prototype. Already have your own embedded vision project in mind? We also offer consulting, development, and production services for your individual embedded vision design.
More information about the Basler dart
Learn more about our products and applications. Our comprehensive materials provide you with all the important details.