Time-of-Flight Technology Meets Labeling Robot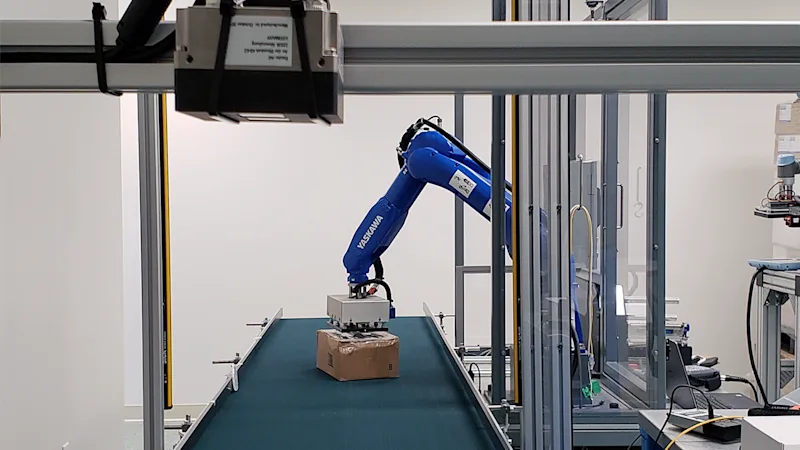 Shipping processes at global logistics service providers are characterized by a particularly high throughput of goods. At the same time, the market demands ever-greater flexibility in logistics, which in turn requires high-performance labelling solutions. Shipping labels are an important component of such solutions: They make logistics processes possible in the first place and contain information such as the customer's address, company logo, sender, barcodes and consignment number.
To meet these requirements, Basler, together with Vanomation Inc., a leading supplier of industrial labeling machines, has developed a system for printing and applying shipping labels in warehouses and distribution centers that handle large quantities of packages on a daily basis.
This is how the robotics solution with Time-of-Flight technology works
Vanomation has integrated the Basler blaze Time-of-Flight camera and application-specific blaze software into a robotics solution that allows the system to detect the location, orientation, and size of a package moving on a high-speed conveyor belt and transmit this data to the RPA (Robotic Print Applicator). With this data, the robot can pick up the adhesive label from the printer and place it in the correct orientation and position on the package. This powerful system allows a label to be accurately placed anywhere on a static pallet or moving package.
Faster and more Flexible with 3D Vision
This is a powerful solution for logistics service providers. The solution eliminates mislabeled packages and the requirement for the conveyor space and additional equipment needed to straighten packages before they are centered under the current mechanical print applicators. The use of 3D vision makes the logistics chain faster, more flexible and less prone to errors.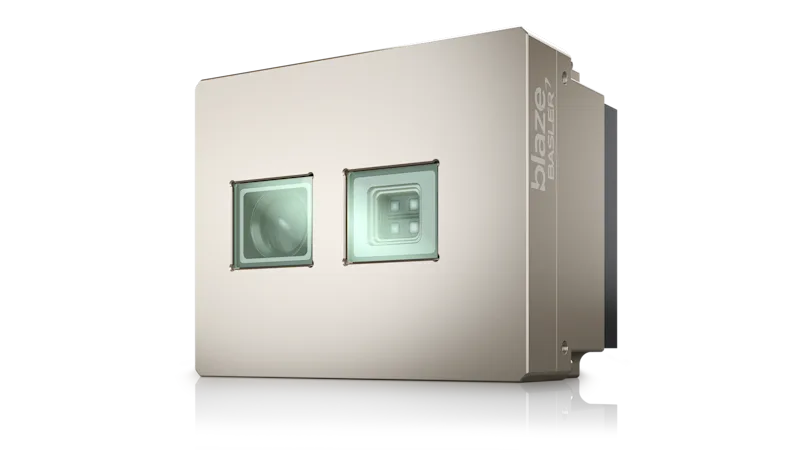 The Advantages of this 3D Vision Solution with Basler ToF Camera at a Glance
Accurate and fast optical measurement of xyz axes and object orientation thanks to the latest Sony DepthSense™ IMX556PLR sensor technology (pulsed time-of-flight)

Easy system integration of the camera thanks to compact design without moving parts and Gigabit Ethernet

Light and contrast independent measurements

Real-time streaming of pre-processed 3D point clouds and 2D intensity images

Support from Basler in developing software for object detection and measurement
More about the Basler ToF Camera