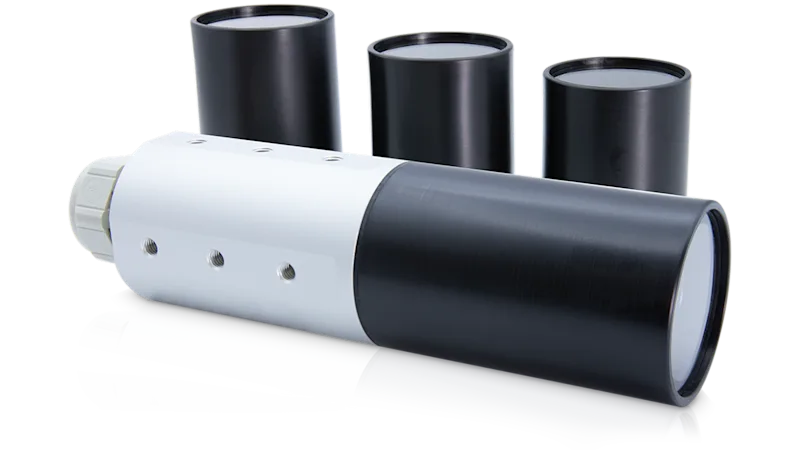 Protection from dust, dirt, and water
If your vision application is exposed to harsh environmental conditions, we have the right camera housing for you. Our IP67 housing offers perfect protection for your Basler ace U, ace Classic, and ace 2 cameras. It is suitable for GigE and USB 3.0 interfaces as well as select Basler Lenses.
Durable waterproof design

Protection of the camera even in harsh environmental conditions

Dust and dirt repellent

Increased service life of your vision system and reduced maintenance work

Easy installation

Fast adaptation to individual requirements due to modular design

Cost-effective

Full compatibility and robust performance at a competitive price
Our broad portfolio offers many compatible products to help you complete your vision solution. Lenses, illumination, interface cards, and more are all provided from a single source, making it easy for you to create the perfect vision solution while benefiting from cost advantages.
Lens compatibility
The following table displays key technical specifications of the lenses that are compatible with Basler's IP67 housing.
| Item number | Model name | Lens length o. thread | Outer diameter | Image circle | Focal length | Lens housing length ace | Lens housing length ace 2 | Vignetting |
| --- | --- | --- | --- | --- | --- | --- | --- | --- |
| 2200000178 | | 58.58 mm | 42 mm | 2/3" | 8 mm | 80 mm | 80 mm | no |
| 2200000179 | | 39.2 mm | 35 mm | 2/3" | 12 mm | 60 mm | 60 mm | no |
| 2200000180 | | 42.4 mm | 35 mm | 2/3" | 16 mm | 60 mm | 60 mm | no |
| 2200000181 | | 38.4 mm | 35 mm | 2/3" | 25 mm | 60 mm | 60 mm | no |
| 2200000182 | | 39.2 mm | 35 mm | 2/3" | 35 mm | 60 mm | 60 mm | no |
| 2200000183 | | 65.7 mm | 35 mm | 2/3" | 50 mm | not compatible* | 80 mm | no |
| 2200000568 | | 51.4 mm | 37 mm | 2/3" | 8 mm | 70 mm | 70 mm | yes |
| 2200000569 | | 55 mm | 29 mm | 2/3" | 12 mm | 60 mm | 60 mm | yes |
| 2200000570 | | 47.2 mm | 29 mm | 2/3" | 16 mm | 70 mm | 60 mm | no |
| 2200000571 | | 42.4 mm | 29 mm | 2/3" | 25 mm | 60 mm | 60 mm | no |
| 2200000572 | | 46.5 mm | 29 mm | 2/3" | 35 mm | 70 mm | 60 mm | no |
| 2200000573 | | 54.3 mm | 29 mm | 2/3" | 50 mm | 80 mm | 70 mm | no |
| 2000034830 | | 31.3 mm | 29 mm | 1/2.5" | 4 mm | 50 mm | 50 mm | yes |
| 2000034831 | | 30.6 mm | 29 mm | 1/2.5" | 6 mm | 50 mm | 50 mm | no |
| 2000034832 | | 29.8 mm | 29 mm | 1/2.5" | 8 mm | 50 mm | 50 mm | no |
| 2000034833 | | 40.8 mm | 29 mm | 1/2.5" | 12 mm | 60 mm | 60 mm | no |
| 2000034834 | | 40.8 mm | 29 mm | 1/2.5" | 16 mm | 60 mm | 60 mm | no |
| 2000034835 | | 41.4 mm | 29 mm | 1/2.5" | 25 mm | 60 mm | 60 mm | no |
| 2200001540 | | 44,5 mm | 44,5 mm | 1/2" | 5 mm | 60 mm | 60 mm | no |
| 2200001541 | | 28,5 mm | 33,5 mm | 2/3" | 8 mm | 50 mm | 50 mm | no |
| 2200001542 | | 28,2 mm | 33,5 mm | 2/3" | 12 mm | 50 mm | 50 mm | no |
| 2200001543 | | 28,2 mm | 33,5 mm | 2/3" | 16 mm | 50 mm | 50 mm | no |
| 2200001544 | | 36 mm | 33,5 mm | 2/3" | 25 mm | 60 mm | 60 mm | no |
| 2200001545 | | 38,2 mm | 33,5 mm | 2/3" | 35 mm | 60 mm | 60 mm | no |
| 2200001546 | | 38,2 mm | 33,5 mm | 2/3" | 50 mm | 60 mm | 60 mm | no |
| 2200001548 | | 52 mm | 39,5 mm | 2/3" | 12 mm | 70 mm | 70 mm | no |
| 2200001549 | | 51,3 mm | 39,5 mm | 2/3" | 16 mm | 70 mm | 70 mm | no |
| 2200001550 | | 59,2 mm | 39,5 mm | 2/3" | 25 mm | 80 mm | 80 mm | no |