Basler and Siemens Join Forces to Enhance Machine Vision and Factory Automation Capabilities
Date

15 November 2023
Basler AG, a leading provider of advanced computer vision products, is excited to announce its new partnership with the technology company Siemens, an innovation leader in automation and digitalization. This strategic partnership will make it much easier for automation customers in all industries to integrate machine vision solutions directly into their automation systems.
The cooperation between Basler and Siemens will bring significant benefits to customers. System integrators, machine builders, and professional end users looking to use computer vision will have easy access to innovative, automated, and easy-to-integrate solutions through this partnership. This will allow them to streamline their production process, increase efficiency, lower costs, as well as improving transparency and quality control—all aimed at maximizing overall productivity.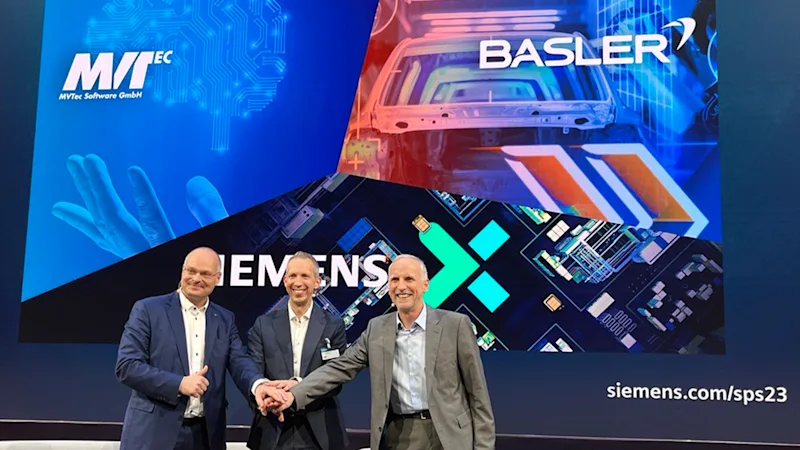 Basler Vision Connector: the interface between camera and automation portfolios
The first result of this alliance is the Basler Vision Connector—a powerful, easy-to-use app that allows Basler's vision components to be easily integrated into Siemens' Industrial Edge ecosystem. "The Vision Connector is a game changer for our customers," explains Dr. Dietmar Ley, CEO of Basler AG. "By being an integral part of this ecosystem, it significantly lowers the bar for our customers to integrate computer vision into an existing automation system." In addition to the Industrial Edge ecosystem, the Basler Vision Connector will also be integrated into Siemens' SIMATIC TIA ecosystem, enabling customers to freely choose the best-fitting solution for their applications.
This connectivity represents a significant improvement in the use of machine vision. "We are very excited about our new partnership with Siemens", said Ley. "By combining our expertise in machine vision with Siemens' strong background in the automation and digitalization market, our collaboration will allow us to offer pre-tested application scenarios and aligned product portfolio options for customers to choose from. We are able to develop solutions that can help them significantly reduce their time-to-market." 
This is only the initial phase of the partnership; plans are in place to broaden its scope to encompass a wider array of computer vision applications by offering Basler's pylon SDK on Siemens' automation devices. This will allow customers to easily and seamlessly integrate vision applications into their automation processes, including conventional computer vision functionality as well as performing evaluations based on machine learning. The partnership also includes aligning customer support between the two companies to ensure that customers have a single point of contact for information and advice. 
"Together we're integrating machine vision into automation. This helps with many tasks, for example when it comes to difficult quality control or to reduce errors and thus defects in industrial production, or to react to the shortage of skilled workers. In doing so, we are taking an important step towards an adaptable, sustainable production and increasingly autonomous production processes," says Rainer Brehm, CEO Factory Automation at Siemens.