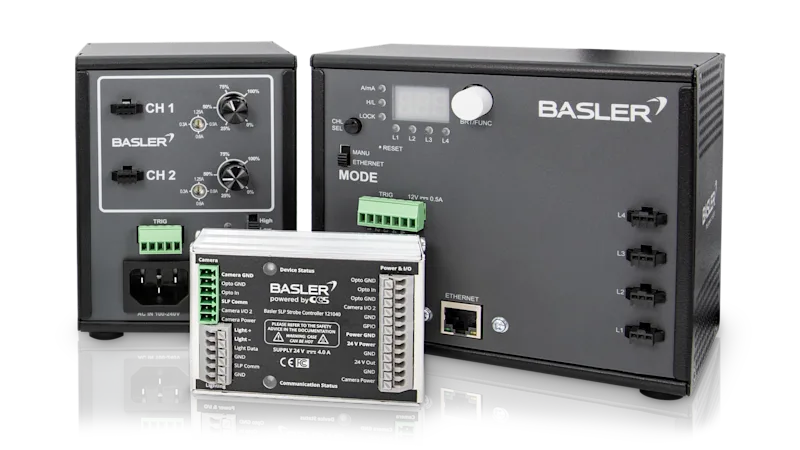 Lighting control for maximum flexibility
The Basler SLP Controller allows lighting to be easily integrated and configured using pylon. For cost-effective lighting control, use our standard 2C and 4C multi-channel controllers.
Basler SLP Feature

Unique feature for quick and easy lighting control

Flexibility

Thanks to different modes such as continuous light, strobing or overdrive

Simple integration

Integrate any light source into your application via plug and play

Quality

Product qualification processes for industrial quality components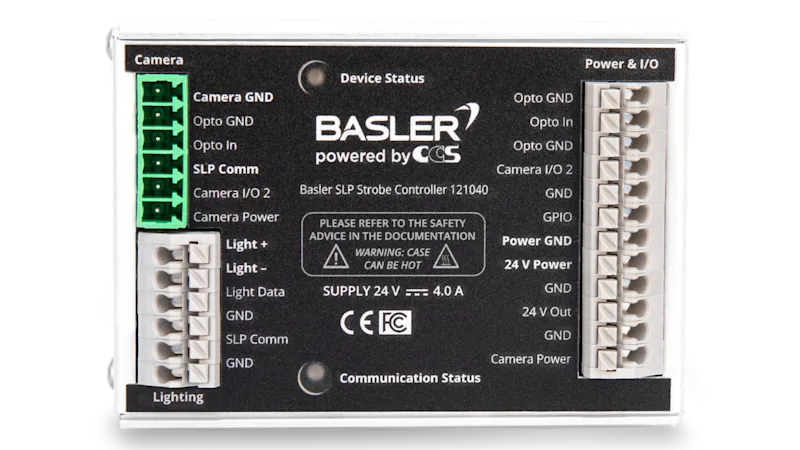 Basler SLP Controller
The Basler SLP feature enables direct communication between the Basler SLP Controller and almost all Basler cameras. This allows you to easily integrate any light source into your machine vision application. You can then control the illumination and all other components of you vision system with pylon software. The lighting can also be operated in different modes, including continuous light, strobing, or overdrive depending on your application needs.
More about the SLP Controller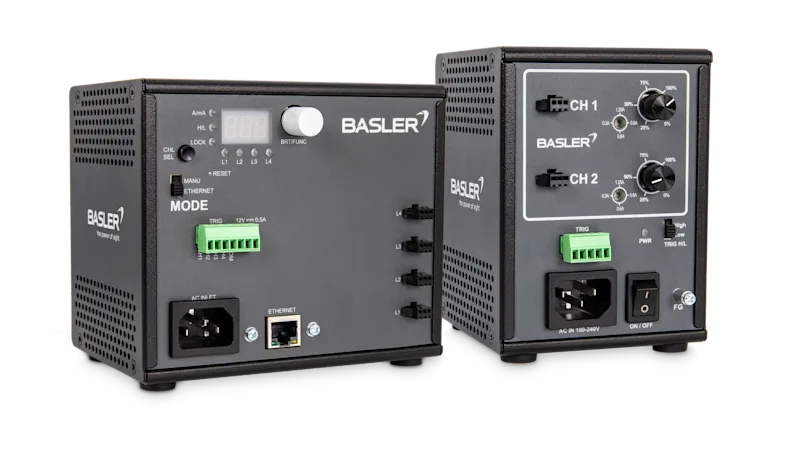 Basler Standard Controller
Use our cost-effective Basler 2C and 4C standard controllers for vision system lighting control. They provide illumination control in a vision system with two to four light sources. With these controllers, the illumination can be operated in a continuous mode or triggered synchronously with the camera. The lighting control can be set either manually (directly on the hardware) or with a web interface for the 4-channel controller.
Our LED lighting and matching lighting accessories
Find the right LED lighting for your vision system plus additional accessories to properly illuminate your application.
Illumination Advisor
Our Illumination Advisor gives you individual product recommendations and guides you step-by-step to a selection of carefully coordinated lighting products and accessories.
More information about LED lighting for machine vision
Learn more about our products and applications. Our comprehensive materials provide you with all the important details.