Basler dart camera module in compact camera system with AI acceleration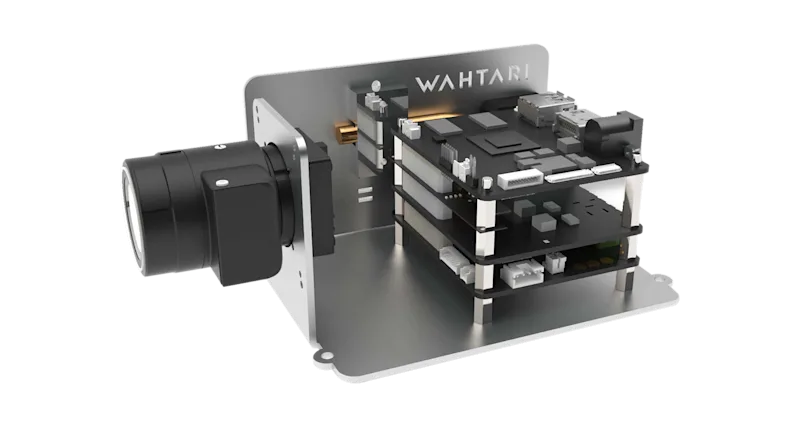 Camera solution with onboard image processing
Wahtari's SmartCam is a camera solution with onboard image processing and an integrated AI accelerator. This is a versatile and modular platform with which user-defined applications can be implemented smoothly. Fields of application include license plate recognition, parking and security solutions.
Requirements for a compact camera system with AI acceleration
Security and reliability are the top priorities for the software and hardware solutions developed by Wahtari in the IT security area. For the SmartCam, it was also important to find a high-performance camera module with compact dimensions. Wahtari opted for the dart camera module as the new core of the SmartCam.
The solution with compact dart camera module
Wahtari selected a Basler dart camera module with CMOS sensor and CS-mount for the SmartCam. The module delivers 54 frames per second at 1.2 MP resolution. With a size of 19.2 mm x 29.3 mm x 29 mm (L x W x H), it offers the most compact design currently available with the selected resolution and frame rate. The universal USB 3.0 interface also makes this module a perfect candidate for the SmartCam's modular approach. To respond to individual customers' wishes and requirements, the module can be flexibly replaced with other versions of the dart camera module.
Another advantage of the SmartCam is Wahtari's end-to-end AI platform, Juno. This opens up access to deep learning as an indispensable tool for numerous industries and tasks. Together with SmartCam, it forms a productive AI ecosystem.
Advantages of the camera solution with AI acceleration
Modular camera solution

High-quality onboard image processing as a basis for all smart vision tasks

Integrated AI accelerator
Products for this solution