Basler Microscopy Software
Professional microscopy software for image acquisition and analysis included in your Basler PowerPack for Microscopy
The Basler Microscopy Software is another centerpiece of the Basler PowerPack for Microscopy. Our microscopy cameras and this software are well matched for camera control, image acquisition, processing and analysis. Explore the benefits of this software as an ideal solution for monitoring, documentation and archiving in educational and routine research and industrial settings.
You need an imaging solution for more demanding microscopy applications in life science, materials science, biomedical or industrial research? Benefit from advanced software features, such as calibration, measurement, annotation or pseudo-coloring. Achieve exceptional color reproduction with advanced image enhancement and color adjustment options such as hue, saturation, brightness, contrast, gamma and gain controls. The software can be easily customized to fit your workflow.
Comprehensive software features:
Hue, saturation, brightness, contrast, gamma and gain controls

Calibration, measurement and annotations

Focus enhancement and automatic/manual exposure

Exposure compensation for adjustment of the target brightness

Selected light presets and white balance

Unique sharpness algorithm for depth of focus

Pseudo-coloring with Top-GUI fluorescence presets

Support of zoom-levels for stereo microscopes
Easiest installation and usability
Intuitive and customizable user interface with real-time live view

Easy image acquisition and standard image processing

Dark skin interface for less light emission and relaxed eyes for fluorescence applications

Comprehensive help tool

Multilingual user interface (English, French, Italian, German, Japanese, Chinese, Russian)

Supported operating systems: Windows 7, Windows 8.1, Windows 10 – 32 bit and 64 bit

Save and restore camera settings
Highlights of the Basler Microscopy Software: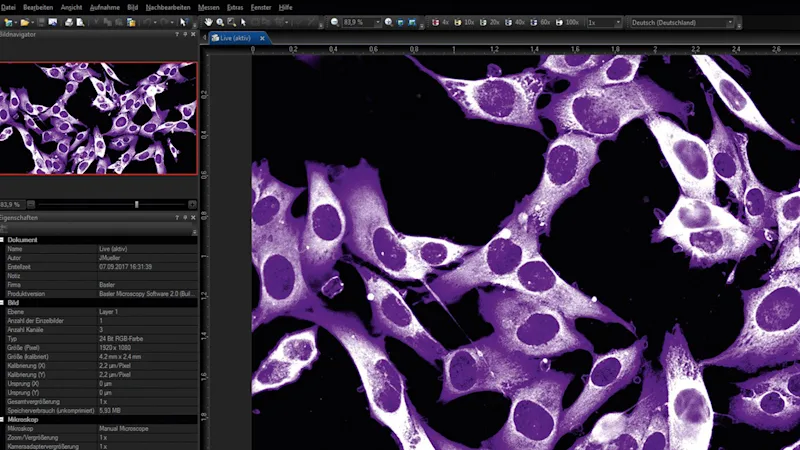 Dark Skin Mode for Fluorescence Applications
Basler not only offers the best-suited cameras for fluorescence applications. The Basler Microscopy Software included in the Microscopy PowerPack also considers the professional workers using the equipment. The graphical user interface of the Basler Microscopy Software can be switched to a dark skin mode, to reduce the light emissions from the display towards the sample. This feature also reduces the user eye fatigue and stress when working in a dark environment.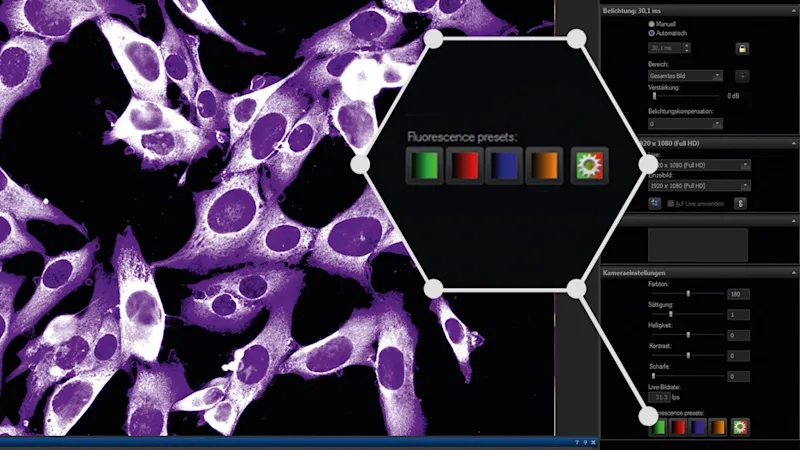 Color presets for the most common fluorescent markers
To make fluorescence imaging more convenient and to save the user´s valuable time, Basler has integrated color presets for the most common fluorescence markers. For quick access, these presets are placed right below the camera settings and can be activated with one click. As standard settings, these presets are available in green, red, blue and orange.
However, users can also configure the color presets to their own requirements and redefine the divisions of the color gradient. Images with this pseudo coloring feature can remain as a greyscale image for further processing in other applications, or they can be saved as a color image as they appear in the software window.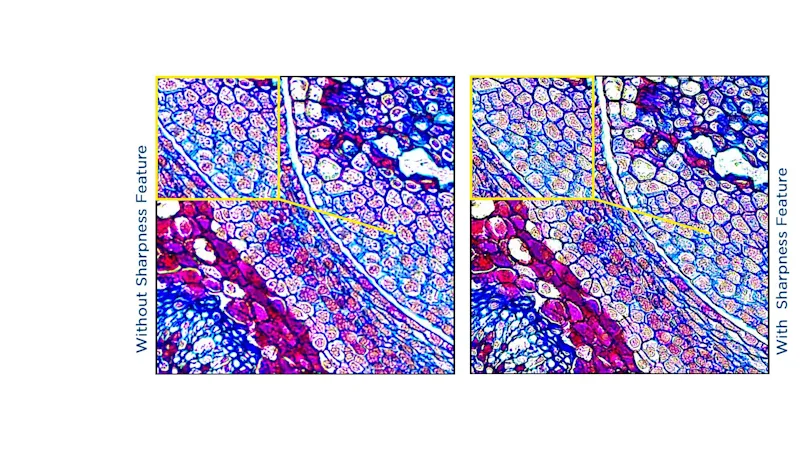 Sharpening Feature for Optimized Images Without Loss of Speed
The Basler Microscopy Software includes a first-of-its-kind sharpening feature to optimize the image for depth of focus. When the magnification is high, the user chooses one depth level to put in focus. Other image areas remain blurred. The patented algorithm ensures that the user can bring more sharpness into the entire picture. Unlike other manufacturers´ products, this in-camera image optimization feature works without affecting the speed of the camera or the real-time image transmission.
Exposure Compensation
While in automatic exposure, users of the Basler Microscopy Software can adjust the target brightness of this automatic function. If an even more bright and shiny white is needed, users can get perfect results when setting an offset to the default values. To prevent oversaturated or overexposed images, the default values work just fine or can be set even lower. Through saving the settings, the user saves valuable time.
Support for Stereomicroscopes
For stereomicroscopes, a dropdown menu to change the magnification level has been implemented and placed into the menu bar. With this feature, the zoom level can be adjusted smoothly to the settings of the chosen stereomicroscope. Magnifications are supported from 1x zoom up to 13,5x zoom, adjustable in small-increment steps.
Tutorials about the Basler Microscopy Software
Download - Basler Microscopy Software
Download the Basler Microscopy Software now to run it with your Basler Microscopy Camera. Please note that this software is not compatible with other cameras from Basler or different camera manufacturers.
Download Basler Microscopy Software
Basler PowerPack for Microscopy
Your tailored all-round camera package for microscopy!
Discover it now