Pixel Correction Beyond for visSWIR Cameras
Our patented, unique algorithm goes beyond conventional dynamic defect pixel correction. By incorporating the image content with flexible adjustment of the correction strength, you achieve significantly better image results. This means you benefit from increased performance and cost savings while operating your vision system.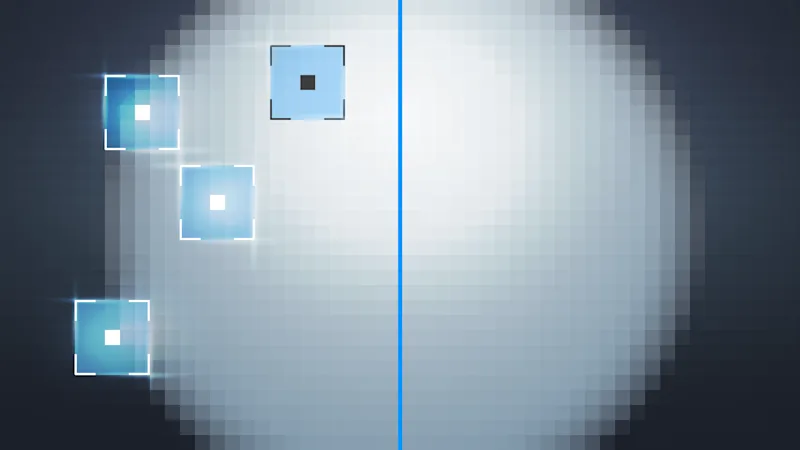 Precise measurement results
Defective pixels occur in the image sensors of digital industrial cameras due to manufacturing defects, aging image sensors, or environmental influences. This leads to reduced image quality.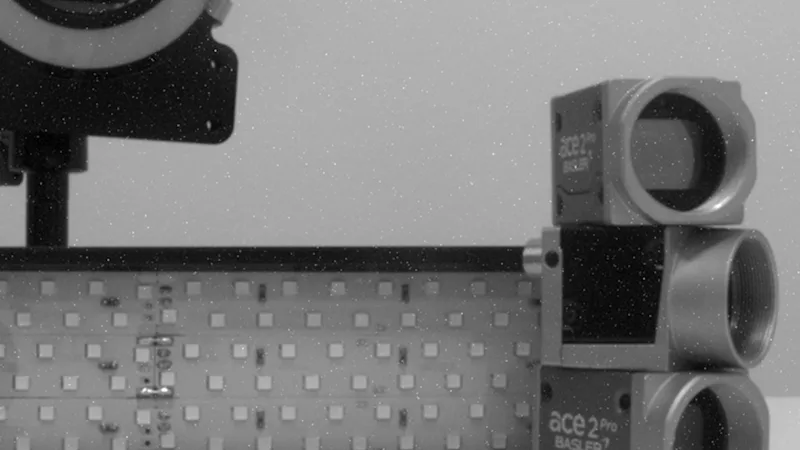 Defective pixels in camera sensors
In particular, defective pixels occur in connection with long exposure times, high gain settings, or a high operating temperature of the sensor (hot pixels). Although their number is small, they appear as completely black or white pixels and therefore offer no usable information. As a result, they can impair the perceived image quality and thus the accuracy of measurements and image results.
Dynamic defect pixel correction
High measurement accuracy can only be guaranteed by correcting defective pixels. Static correction detects defective pixels during sensor calibration and saves them. Dynamic correction, on the other hand, works continuously for each image while the application is running and can therefore react to changing conditions to correct newly occurring defective pixels. It recognizes and corrects defective pixels even before they leave the camera as image data by adjusting their values to match surrounding pixels in terms of direction and intensity. Such pixel operations are very computationally intensive and time-critical, which is why our Pixel Correction Beyond algorithm is implemented on the camera FPGA.
Pixel Correction Beyond
Basler's solution outperforms previous correction algorithms, delivering better results than the use of a cooled camera.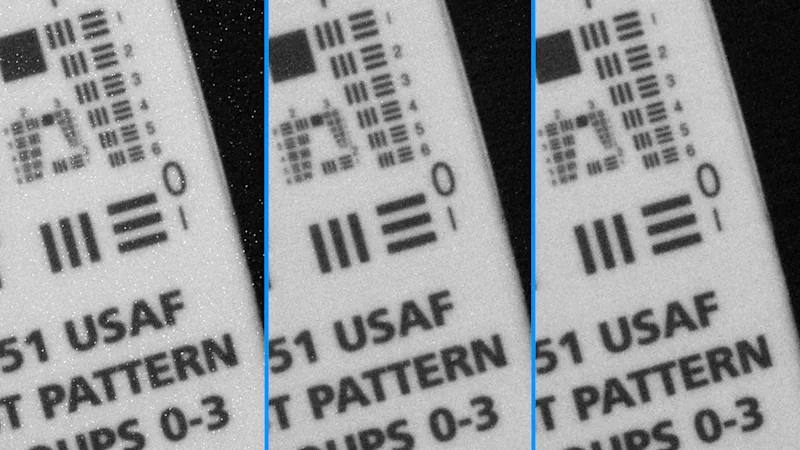 Advantages of Pixel Correction Beyond
By incorporating the image content, our approach goes beyond conventional dynamic defect pixel correction, offering:
Flexible adjustment of the correction strength

Better correction of structures at edges while retaining image details

Blinking pixels with variable saturation can also be corrected
Our algorithm ensures a uniform and consistent image—and therefore a significant improvement in image quality. Sensitive corrections to image details can be made by adjusting the correction strength. Implementation on an FPGA ensures images are generated at an optimized processing speed without increasing the CPU load.