CoaXPress Solutions for High-Resolution Gene Sequencing
What was it all about?
In laboratory automation, ever-faster and more reliable methods are being used to analyze genetic material through gene sequencing. Using NGS (Next Generation Sequencing), even subtle differences in the structure of the genome can be detected and evaluated. Therefore, it is necessary to visualize and determine the sequence of the four different bases on a DNA strand.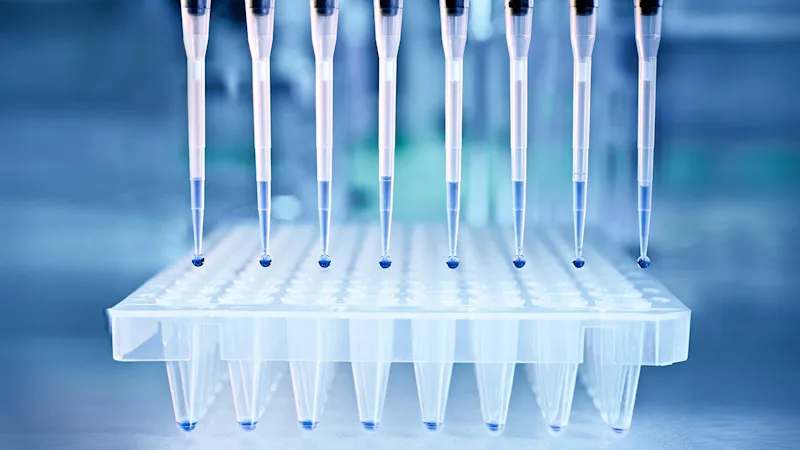 What was the problem?
A powerful vision system is required for high-resolution image acquisition at high frequency. Image processing enables the manufacturers of sequencing devices to visualize the small building blocks of life very quickly and with great accuracy. A system with the CoaXPress 2.0 interface (including camera, interface card or frame grabber, and other components), meets the requirements for low installation effort and high quality measurement results.
The solution
To visualize and determine the sequence of the four different bases on a DNA strand, fluorescent nucleotides containing the bases are added. The image processing system is used to analyze the wavelength and intensity of the fluorescence emission on the images. The respective base can then be determined based on its fluorescence signal. Vision systems with the newest CoaXPress interface output sharp, high-resolution images in a rapid sequence with low image noise—critical features for successful gene sequencing. Basler provides CXP-12 components for the entire vision system, including appropriate accessories, which can be used for a wide variety of gene sequencing methods. The required image processing components include an industrial camera connected to an interface card or frame grabber via coaxial cable. With new sensors and the CoaXPress 2.0 interface, the camera's full data throughput of up to 150 frames per second at 16.1 MP resolution can be transferred.
Your benefits
More precise analyses with greater result output thanks to higher resolution images at higher speeds

High dynamic range for high-contrast visualization of both bright and dark image areas

Plug-and-play connectivity of CoaXPress components for easy integration with increased bandwidth
Products for this solution