Precisely placed to the millimeter every time!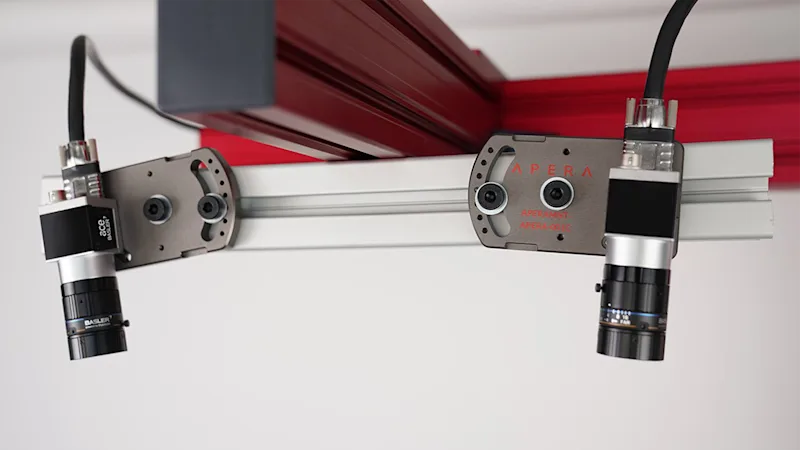 What was it all about?
The AI-supported software from Apera AI, in combination with Basler ace cameras, gives industrial robots a spectacular sense of sight: they can recognize partially hidden objects and even small parts can be positioned to the millimeter. Even in unstructured environments, they can achieve the level of precision needed to optimize automated processes. For example, the assembly of automotive parts.
What was the problem?
Automotive suppliers such as Apera's customer Flex-N-Gate require precise quality throughout the production process, as even the smallest defects quickly lead to high costs. Plastic parts for interior panels are a particular challenge here, as there are dimensional differences (within tolerances) from part-to-part. Therefore, a robot inserting clips into towers on these parts can miss the right spot because it is not identical on every part.
The solution
Using the Basler ace camera, the AI-powered Apera Vue software captures a scene and determines the object's position and orientation. The total vision cycle can occur in as little as 0.3 seconds, a speed improvement from other vision technologies. This combined system has no difficulty with cluttered or partially obscured objects: it can work with disordered and very similar parts as well as with transparent or reflective elements. Objects can even move, and the robots are able to adapt quickly to these changes.For this solution, six Basler acA4024-29um 12MP cameras were used, equipped with Basler 12 C125-1218-5M lenses. Installed as three pairs, they covered an area approximately 180 cm long and 90 cm wide - corresponding to the size of the plastic panels to which the clips are attached. Based on the images received from the cameras, Apera Vue can guide the robot precisely to perfectly place each clip.
Your benefits
Correct placement of clips in the dashboard increased to 99%

Significant time and cost savings due to reduction of rejects

High reliability and precision of the ace cameras
Products for this solution